We've drawn iconic sail-wearing Dimetrodon wrong for 100 years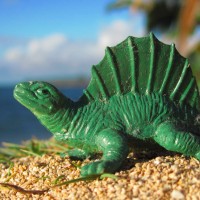 New Scientist
Image: puuikibeach
Dimetrodon, one of the most recognisable of the pre-dinosaur predators, is due a makeover. For more than a century, it has been depicted as a sluggish, belly-dragging beast with sprawling legs – but it might actually have held its legs in a more upright position and kept its stomach off the ground as it walked.
Often mistaken for a dinosaur, Dimetrodon actually belonged to a group called the pelycosaurs that were more closely related to mammals. It lived between about 290 and 272 million years ago, with some species measuring more than 3 metres from nose to tail. Its most iconic feature was a gigantic sail on its back, the function of which is still debated.
Nineteenth Century artists drew Dimetrodon as a sluggish-looking animal with legs sprawled out to each side of its body, resting its weight on an enormous belly – and even in the 21st century nothing much has changed.
"I was baffled as I was going through the literature how little this had been questioned," says Caroline Abbott at the College of William & Mary in Williamsburg, Virginia. It's particularly surprising given that the fossil trackways left by Dimetrodon seem to tell a different story. The relatively narrow distance between left and right sets of footprints suggest Dimetrodon did not have sprawling legs.
"That's where the real head-scratcher is," says Abbott. "The trackways are more narrow than you'd expect and in a lot of cases they lack belly dragging marks." Read more on newscientist.com…