Early farmers may have polluted the sea 4000 years ago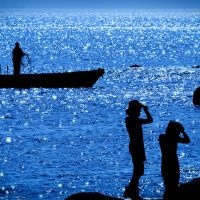 New Scientist
Image: Pai Shih
Humans have been polluting the environment for at least 4000 years. So say scientists who have analysed sediment from the South China Sea – but not everyone is convinced.
Several early civilisations hit a crisis point about 4000 years ago. The global climate cooled, and this has been linked to the collapse of the Akkadian Empire in ancient Mesopotamia, the end of the Indus valley civilisation of South Asia and the fall of the Liangzhu culture in what is now eastern China.
Cooling was also felt on Hainan island off China's southern coast, according to Fangjian Xu at the China University of Petroleum, Qingdao, Bangqi Hu at the Qingdao Institute of Marine Geology, and their colleagues. The cooling led to an increase in heavy metal pollution in the South China Sea.
Xu and his colleagues looked at two sediment cores from just south-east of Hainan. They calculated "enrichment factors" for several metals. A value of 1 or below indicates no enrichment, while values between 1 and 3 suggest "minor enrichment".
The enrichment factors of cadmium and lead hovered around 1 before the 4000-year mark, but afterwards increased to about 1.5. In other words, human activity on Hainan 4000 years ago led to a subtle but detectable uptick in heavy metal pollution in the South China Sea, says the team. Read more on newscientist.com