It took these monkeys just 13 years to learn how to crack nuts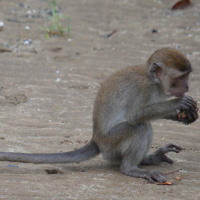 New Scientist
Image: mcoughlin
The macaques of southern Thailand have started a new tradition. For at least a century, they have used simple stone tools to smash open shellfish on the seashore. Now the monkeys have begun using stones to crack open oil palm nuts further inland.
The finding means they may be the first non-human primates to have begun adapting their Stone Age technology to exploit a new ecological niche.
Tool use is common in the animal kingdom, but very few animals make routine use of stones as tools. Among non-human primates, just three species are known to do so: the western chimpanzees of West Africa, the bearded capuchins of Brazil and the long-tailed macaques of Thailand. However, in all three cases biologists thought the primates restricted their stone tool use to a specific environmental setting.
"The chimpanzees live in tropical rainforest, and the capuchins in a dry savannah area," says Lydia Luncz at the University of Oxford. And the macaques spend a lot of time on the beaches of Thailand's islands, where they use stones to break into shellfish. Read more on newscientist.com…