Watch cockatoo genius chew out a tool from a piece of cardboard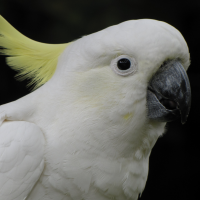 New Scientist
Image: siestakeysunset
It's toolmaking with intent. Goffin's cockatoos in the lab use their beaks to carefully cut out a tool from a sheet of cardboard before using it to retrieve an out-of-reach nut.
In 2012, a male Goffin's cockatoo named Figaro proved to be smarter than the average bird: he worked out that he could get to a nut just beyond his reach by tearing a long splinter off a chunk of wood and using it to rake the food.
The behaviour – which some other cockatoos also picked up later – seemed to suggest the intentional creation of tools with a specific design for reaching food. But there were some doubters.
"There were questions on whether the elongated shape of the tool was intentional," says Alice Auersperg at the University of Vienna in Austria, who described Figaro's behaviour in 2012. "He could just have bitten the material out of frustration and ended up with a functional tool due to the age lines of the wood."
In other words, wood naturally tears into the shape of a nut-retrieving tool, making it unclear whether the birds set out deliberately to fashion tools of the right shape for the task, or whether they just stumbled upon one that works well.
Auersperg and her colleagues have now performed some follow-up investigations to make a stronger case for cockatoos having a specific intention in their toolmaking. Read more on newscientist.com…