First life may have been forged in icy seas on a freezing Earth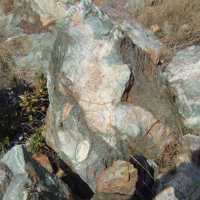 New Scientist
Image: Maarten de Wit
Did life begin in the freezer? Early Earth may not have been as hot and hellish as we thought. In fact, it may have become a snowball around the time life first emerged.
This is according to a fresh analysis of rocks from South Africa that formed about 3.5 billion years ago, during the Archaean period. Previous research suggested that the ocean in which these rocks formed was warm – perhaps around 85°C.
But Maarten de Wit at the Nelson Mandela Metropolitan University in Port Elizabeth, South Africa, now says the ocean temperature was similar to today's – and that there is even evidence that ice was present.
Because South Africa's Barberton Greenstone Belt, where these rocks are now found, formed at a latitude of 20° to 40°, this implies that Earth may have become engulfed in ice at least once during the Archaean, he says. Read more on newscientist.com…