Humans adapted to Arctic life 10,000 years earlier than thought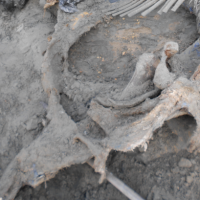 New Scientist
Image: Pitulko et al., Science (2016)
It's a classic image of life in the ice age: a giant mammoth brought down by the sharp spears of a hunting party.
Now we've discovered a particular carcass – apparently killed and butchered with weapons – that is special. It was found in north-western Siberia and is 45,000 years old, which means that our species seems to have adapted to Arctic life 10,000 years earlier than we thought.
Together with a similarly ancient wolf bone with signs of weapon damage unearthed in eastern Siberia, this suggests humans were widespread in the region at the time.
They may have therefore had the opportunity to move even further east – into North America – long before 20,000 years ago, which is when we had thought people first reached the Americas. Read more on newscientist.com