If birds in a truck fly, does the truck get lighter?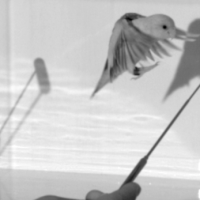 New Scientist
Image: Lentink
It's an urban myth that had US TV show Mythbusters weighing a truck full of pigeons on a scale and getting them to fly. Now it seems there's some truth to the idea that a truck driver carrying a cargo of birds can lighten the load by making the birds fly.
But the effect is very short-lived – and worse, immediately afterwards, the avian cargo might actually be up to twice as heavy as the combined weight of the birds.
So says David Lentink, a mechanical engineer at Stanford University whose team has designed a system for measuring the aerodynamic forces generated by an untethered bird in flight. The system could also be used to test the performance of biologically inspired drones. Read more on newscientist.com…