Watch specialised number neurons in action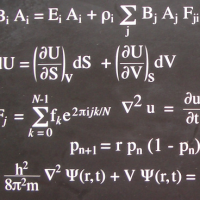 New Scientist
Image: dullhunk
A part of all of us loves sums. Eavesdropping on the brain while people go about their daily activity has revealed the first brain cells specialised for numbers.
Josef Parvizi and his colleagues at Stanford University in California enlisted the help of three people with epilepsy whose therapy involved placing a grid of electrodes on the surface of their brain that record activity.
Neurons fired in a region called the intraparietal sulcus when the three volunteers performed arithmetic tests, suggesting they dealt with numbers.
The team continued to monitor brain activity while the volunteers went about their normal activity in hospital. Comparing video footage of their stay with their brain activity (see video, above) revealed that the neurons remained virtually silent for most of the time, bursting into life only when the volunteers talked about numbers or numerical concepts such as "more than" or "less than". Read more on newscientist.com…