Fish fossil suggests our skeleton evolved face first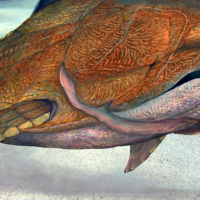 New Scientist
Image: Brian Choo
Did our distant ancestors emerge face-first into the world? This is the intriguing question raised by a new-found fossil. It is thought to be the earliest known fish to possess important facial bones seen in most fish, reptiles and mammals today, but its other bones are much more primitive. That suggests the face was the first modern skeletal feature to evolve.
The 419-million-year-old fossil is 20 centimetres long and was excavated from a quarry near Qujing in China's Yunnan province. It is exquisitely preserved in three dimensions and has a complete set of jawbones. The researchers have named it Entelognathus or "complete jaw".
The fossil is important because it dates to the time that modern fish first appeared in the early oceans. Modern fish fall into two major groups: those with a bony skeleton, like cod, and those with a cartilaginous skeleton, like sharks and rays. Both groups are thought to have evolved from a now-extinct group of primitive fish called placoderms, which were heavily armoured with bony plates.
From the neck down, Entelognathus is clearly a placoderm. Its skull tells a different story, though. Some features, like the braincase, are typical placoderm, but the pattern of the bones in the jaws is almost identical to that of today's bony fish. Read more on newscientist.com…