Spicy food on the menu 6000 years ago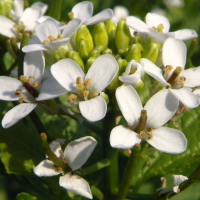 New Scientist
Image: Peter aka anemoneprojectors
Even in prehistoric Denmark, some liked it hot. Residues scraped from the inside of 6000-year-old pots found in the Baltic show they were used to cook meat and fish that was seasoned with a peppery, mustard-like spice.
Exactly when humans began to season their food is something of a mystery, says Oliver Craig at the University of York, UK. "Spices grow in the wild as part of the background flora," he says. "So if you find the botanical remains of spices at a site you don't know whether they were actually used in food or whether they just came from plants growing nearby."
So although coriander seeds have been found at a 23,000-year-old site in Israel, we cannot be sure that they were used to flavour food.
Craig and Hayley Saul, also at York, have now found clear evidence that spices were intentionally added to food used in northern Europe by around 6100 years ago – the earliest known evidence of spiced food in Europe, and perhaps anywhere in the world.
Their team analysed deposits left inside 74 cooking pots from prehistoric sites in Denmark and Germany. They contained chemical signatures consistent with the presence of meat or fish, and phytoliths – mineral traces of food – similar to those associated with seeds of garlic mustard (Alliaria petiolata), a local plant with a strong peppery flavour but little nutritional value. Read more on newscientist.com…