Volcano's screams may explain eruption's awesome power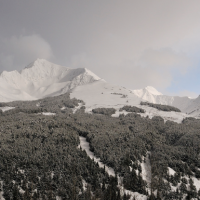 New Scientist
Image: DCSL
Several volcanoes erupted in 2009 – but only one screamed in the process. Its unique guttural howls provide an unrivalled glimpse into the heart of a volcanic eruption, and may hold clues to the driving forces that cause volcanoes to blow their tops.
The Redoubt volcano near Anchorage in Alaska sprang to life in March 2009, exploding more than 20 times during a two-week-long eruption that spewed ash some 15 kilometres upwards into the stratosphere.
Before many of those explosions, local seismic stations detected a flurry of tiny tremors of magnitude 0.5 to 1.5. In the final minute before an explosion, the earthquake frequency peaked at about 30 events every second, which meant the seismic waves they generated merged together into a continuous stream. This then gave way to 30 seconds of eerie silence just before the explosion.
The seismologists studying Redoubt have dubbed the stream "the seismic scream", because it built to a crescendo of increasing pitch, entering the lowest range of human hearing. Read more on newscientist.com…