World's loneliest bug turns up in Death Valley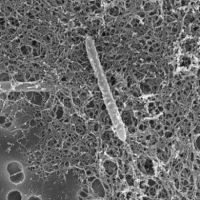 New Scientist
Image: NASA
An improbable microbe, first found living 3.3 kilometres below South Africa, has been glimpsed half a world away in California.
Candidatus Desulforudis audaxviator was found in water-filled fractures in South Africa's deep gold mines, where it lives isolated from every other life form on Earth.
Uniquely, the bacterium has evolved to do without the sun's energy, relying only on hydrogen and sulphate, which can form naturally in its subterranean home.
Until recently, biologists thought that the species was confined to South Africa's depths – although related DNA has shown up in Europe and in igneous crust below the sea floor.
Now, a project to map Earth's deep biosphere – the Census of Deep Life – has found DNA 99 per cent identical to that of D. audaxviator tens of thousands of kilometres away, in boreholes 900 metres deep near Death Valley in eastern California. Read more on newscientist.com…